LITTLE VILLAGE – Eustoquia Alvarez was unable to celebrate her son's 22nd birthday in October.
Macedo's dream was to buy a new car to have a better life with his 2-year-old daughter and wife, Alvarez said. He was working as a food delivery boy when he was shot dead on September 28 while driving on the Stevenson Expressway near Chinatown.
So instead of celebrating Macedo's birthday month, Alvarez and other family members of slain Chicagoans gathered outside the Cook County courthouse in Little Village on Saturday. They demanded justice and commemorated the victims of violence for El Día de los Muertos, a Mexican holiday in honor of deceased loved ones.
"We demand justice for all of our children," Alvarez said. "We demand that the Chicago authorities support families because sometimes there is no support for Latinos. … Our children do not deserve to die.
The memorial came at a particularly difficult time for Chicago: Gun violence has skyrocketed since the pandemic struck in early 2020. This year alone, more than 3,700 people have been shot and at least 678 people have been murdered, according to police data.
City and state have invested in tackling violence – Gov. JB Pritzker pledged these groups $ 50 million on Monday – but event attendees said officials had not done enough to prevent violence and help the families of the victims.
Alvarez said officials did not properly support communities of color after the violence, with many family members of victims not receiving updates during investigations.
Nanette Luna, who was at the vigil, also lost her son to the violence. Victor Felix Jr. was 16 years old.
Felix was on his way to school when he was shot and killed in 2016. Luna said she wanted answers about what happened – but she did not get them after contacting the police, the office the Cook County District Attorney's Office and the Mayor's Office.
"I have yet to get justice for my son," Luna said. "The everyday hurt and pain never goes away and it never gets easier. … I miss my son every day, but I made him a promise while he was lying in that lifeless bed. I told her that I would be her voice until God took my life from me.
"Our children deserve justice, and we will get it for them."
During the vigil, photos of victims of violence were pinned to white crosses with red roses and hearts outside the courthouse. Families created ofrendas, or altars, for their lost loved ones, as parents assumed and shared their stories.
Cecilia Mannion, Victims' Rights Advocate Enlace Chicago and founder of Families Seeking Justice, said the more than 100 crosses at Saturday's memorial represented only a small fraction of Chicagoans lost to gun violence. She said she hopes Saturday's event has shown families that they are not alone in mourning.
"We care about how they feel and what they are going through," Mannion said. "A lot of those people who were on those crosses… I was there from the start – from the morgue to the hospital, I was there with these families. I got involved with these families.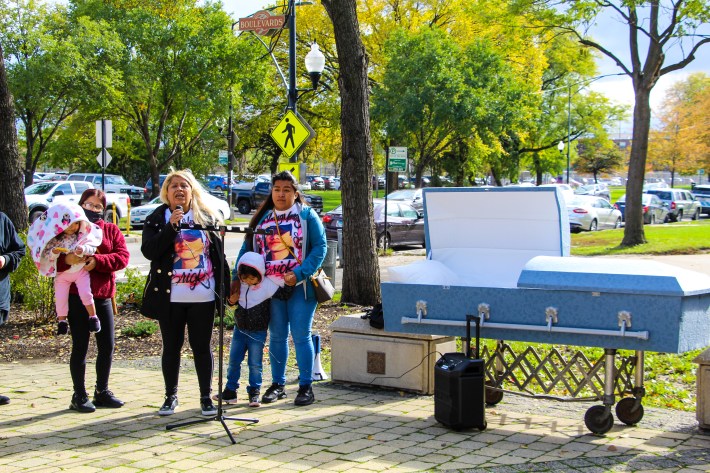 Alexis Rodriguez, a street counselor for Enlace Chicago, said many communities hardest hit by the violence are under-resourced. Community violence has been "normalized" in these areas – and officials appear to be doing nothing, she said.
"This is not true. We shouldn't have to have these experiences," Rodriguez said. "We shouldn't have to see our loved ones die because of community violence."
Monica Saavedra has also lost her son, Justin Reyes, to the violence in Chicago. During the vigil on Saturday, she said she could never be fully healed.
"I am his voice. I am his mother, "Saavedra said. "He was my son; he was like my best friend. He was a loving son.
"I need my son and I know I will never see him again."
Listen to "It's All Right: A Podcast from Block Club Chicago" here: