GONVICK — Hundreds of people gathered at the Gonvick Fire Department on Thursday to view a traveling memorial wall, offering a chance to heal, reflect and honor their fallen brothers and sisters in the Vietnam War.
After being escorted to Gonvick on Wednesday by members of the In Country Motorcycle Club and other Vietnam veterans, the traveling memorial wall was erected, displaying the engraved names of more than 58,000 people killed or missing during the Vietnam War .
The memorial, which will be open to the public 24/7 until noon on Sunday July 10, shows how crushing the losses were during the Vietnam War. The names are listed in chronological order by date of their accident on the 8-foot by 200-foot memorial wall.
"Most Americans see the numbers generated by the Vietnam War. To those who survived and the families of those who did not survive, they see the faces and feel the pain these numbers have created," reads a plaque next to the wall. "We are, until our death too, haunted by these figures because they were our friends, fathers, husbands, wives, sons and daughters. There are no noble wars, only noble warriors.
There are exactly 58,307 names inscribed on the wall. Of these names, 33,103 were only 18 years old, 997 were killed on the first day and eight women who were there to tend to the injured are also listed. The highest number of deaths for a single month was 2,415 in May 1968.
"Gonvick is nothing more than a small dot on a roadmap, but we wanted to show the public that we are able, willing and able to honor our fallen comrades," said Logan LeClair, member of the U.S. Army, as he took the podium at a mural exhibit opening ceremony in Gonvick. "As some of you know, there are people from Gonvick on this wall, but we find it only fitting that peace and remembrance finally find them, especially here at home."
After LeClair's speech, a large crowd rose for the national anthem followed by the display of the colors for each branch of the military presented by members of the United States military.
Guest speaker and author, Wendell Affield, of Bemidji, joined the navy at age 17. At age 20, he was injured in an ambush while riding a river patrol boat in Vietnam and medically evacuated. Today, he speaks to post-traumatic stress disorder groups and leads a
veterans group.
"I am honored to be here today as we remember the men and women who died in Vietnam. It is our burden and our honor to remember them. A burden, because memories awaken sorrow. Honor, because these men and women paid the ultimate price," Affield said as he stepped onto the podium. "For veterans, we remember the person who died next to us. Families mourn their loved ones who did not return. For all of us, every day is a day of remembrance.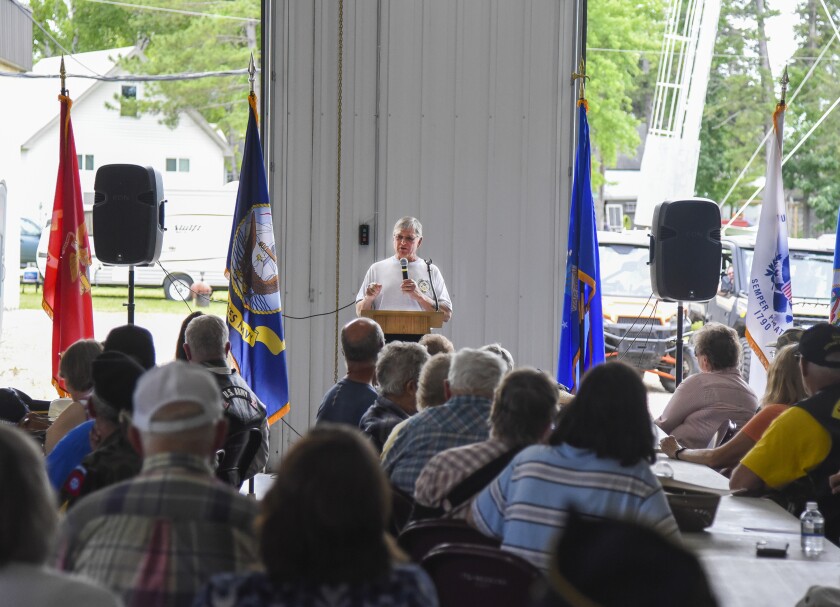 Affield went on to tell a few stories about when he and a few friends drove down the road to see the wall in Washington D.C. and recited a poem he wrote about it titled "After the Funeral."
Affield then mentioned one of the 58,000 names carved on the wall, John Sundquist.
"As I was preparing my speech today, I was looking for local victims in Vietnam. I found several from Clearwater and a young man from Gonvick," Affield said. "When I found out about John, I realized he embodies all the men and women on the wall."
John Olaf Sundquist was born on November 28, 1945. He was drafted into the army and served in the Vietnam War, beginning his tour on March 30, 1966. Sundquist held the rank of Private First Class and his military specialty was l small arms infantry. .
During his service in the Vietnam War, at age 21, Army Private First Class Sundquist experienced a traumatic event that ultimately resulted in the death of
. His name is engraved on the memorial wall on the 11th panel, line 96.
Affield then read some of the memories left for him posted on
by his comrades who accompanied him during the war.
An article by Marvin Roach said:
"John, how do I remember the day you left us. I had just spoken to you and we were seized with the conditions in which we were. "Less than two minutes later, you lay dead. I wrote your parents to let them know you were a true hero. I'm so sorry you never got to go back to your Minnesota dairy farm, I I never forgot.
Another message from Roach said:
"When I look at this picture you look so serious but you were anything but. You were a funny, fun guy who was always laughing…As others read this I want them to know you were a person alive with emotions like them and that you were and are more than just a face on a wall.
"John's friends wrote these messages 53 years after his death," Affield continued. "Brotherhood forged in war lasts a lifetime."
The Sundquists' brother and sister were seated in the crowd inside the Gonvick Fire Department for the opening ceremony of the wall. John's brother, Leroy Sundquist, read the very letter his family received informing them of their brother's death.
The letter, written and signed by seven of his friends, told everyone what an amazing friend John was and his courage that will be remembered when he died trying to save two other men from his platoon.
In December 1966 John was rewarded for his heroism with a Purple Heart followed by many others. He leaves behind a loving family, his fiancé and many friends. There, in Gonvick Fire Station, a photo of John posing with several Vietnamese children, sat on the table in front for all to see – not just a number on the wall – but a face.
The third and final speaker and Vietnam War veteran took the stage to say a short prayer followed by the reading of "Taps", before the crowd descended to view the wall before dinner.
"It's a funeral," said the speaker. "We were on our own to welcome us home. Hence this wall of heroes. Even so, we were considered dummies and forgotten…but it was the strangers and the dummies who paved the way for someone.
"All gave a little, but some gave everything."